The Blue Mountains #1 Source For
Games, Gaming PCs, Parts & Advice
We specialise in personalised service and deliver in and around the Blue Mountains area, we generally do not ship outside this area.
If you have some specific requests and you are not located in the Blue Mountains, please contact us before ordering.
Are you, or your kids looking to purchase a gaming PC or a games console?
Do you have questions regarding what you need to build or upgrade your PC for playing games?
Looking for advice on how to best manage your kids gaming time, on PC or console?
We can help you choose the best system for your budget when upgrading, or purchasing a new gaming PC or console
We can design and build a system to specifically suite your needs so you don't end up spending too much, or end up with a computer that is not powerful enough!
We can advise you of the best ways to help manage and monitor your child's game time, and ensure they are not exposed to inappropriate content
Please note:
Due to fluctuations in global markets and the impact of COVID, prices can change at a moments notice!
Please contact us if you are looking at purchasing our products so we can give you the latest prices.
Cheers!
All The Top Brands in Gaming
Read our articles on Kids and Gaming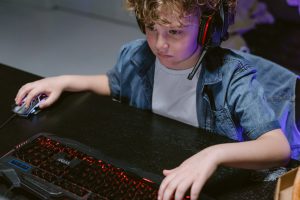 Setting up your child's gaming PC Kids love games! With...
Read More